What is Keeping?
For more information about the big picture of Keeping, please take a look at the Keeping resource page.
Recommended Keeping in 2016-17
This year, we are encouraging our study group to try out two new Keeping habits:  the Commonplace Book and the Century Chart.
These are optional practices meant to help you grow in your understanding of Mason's principles and methods. But they are only a recommendation; there is no 'momma guilt.'
What is a Commonplace Book?
Laurie Bestvater in her book, The Living Page, describes a commonplace book:
The Commonplace collects student-selected passages from any and all reading on any and all subjects.  Mason also refers to it as a Reading Diary. (p.32)
You could consider it to be a collection of quotes from your readings. It might be something that inspired you or that caught your attention or a well-crafted turn of a phrase; in essence, 'worthy thoughts, well put'.
How Will We Use One? 
We encourage you to capture quotes in your commonplace book* as you pre-read Volume 3 in anticipation of our monthly discussion.  At our meetings, we might, from time to time, add other selections from our poetry readings.
*Your commonplace book is not included in the Resource Fee.  It can be a lovely journal, a composition notebook, or as simple as some sheets of blank paper. When you get the hang of these, they become life-long reading companions and a documentation of your experiences with books; you might prefer something more attractive and designed to last.  For now, we are building habits, so feel free to experiment to see what format you prefer (lined/unlined? bound/loose-leaf? etc.).
What is a Century Chart?
A Century Chart is a graphic format for visualizing events and their relation in time to one another.  It is one of several 'history tools' that Mason's schools employed.  It is particularly useful for visualizing the major events of a century at a glance.  Because a person's lifespan is in the ballpark of a hundred years, they lend themselves quite well to charting the life events of a person.
As I was reading The Story of Charlotte Mason by Essex Cholmondley, I kept the following Century Chart of Mason's life, adding in events as I went along, as they struck me as particularly insightful to an understanding of her life and work.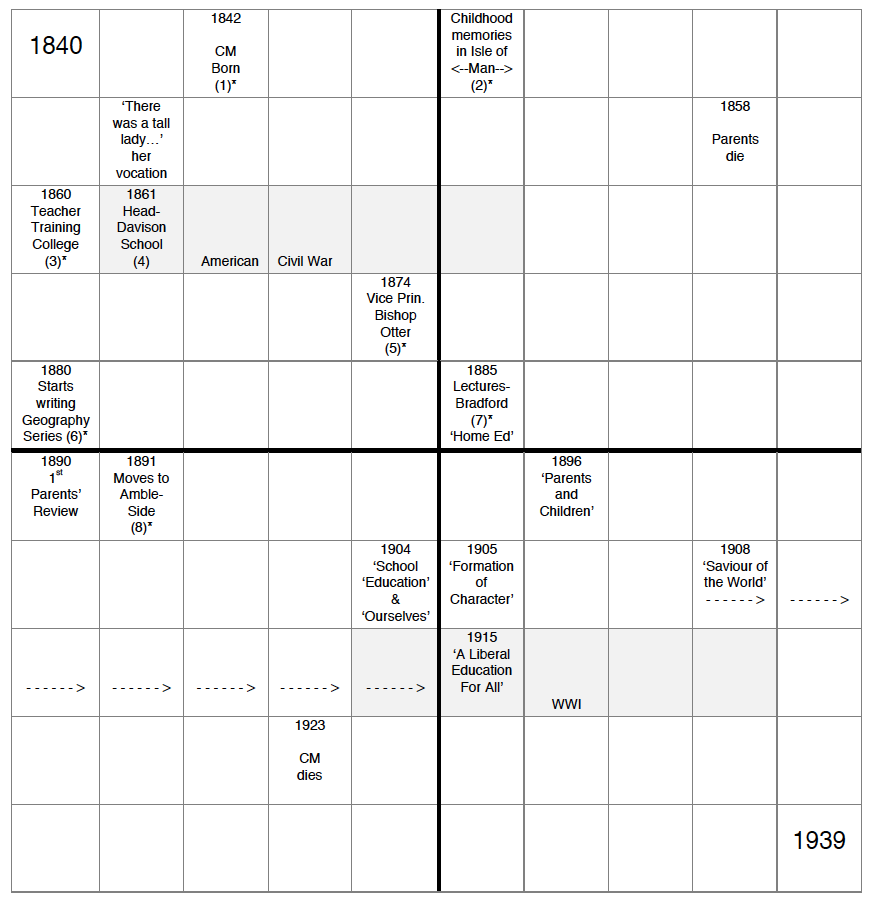 If you would like more information, read The Living Page by Laurie Bestvater.  Also, there is a helpful Parents' Review article with a blank, downloadable chart available at the Riverbend Press website.
How Will We Use One? 
A Century Chart (blank) will be provided in your handout materials. You are encouraged to use this 'time tool' to track the life events of our Poet and Artist.